CHEF & OUR TEAM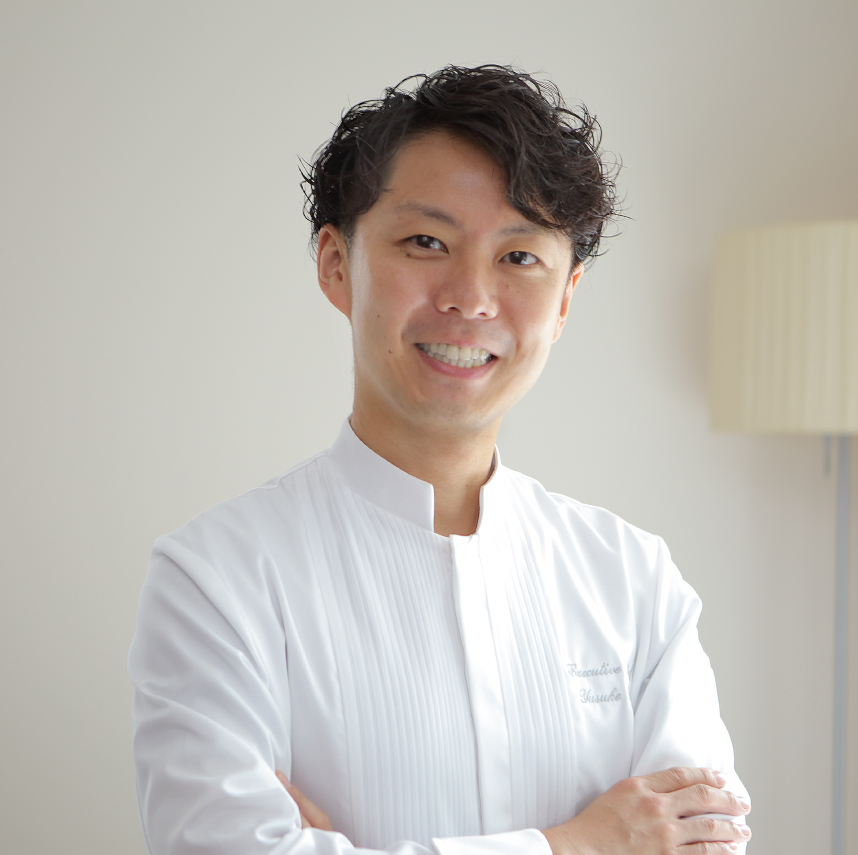 AMOUR Executive Chef
後藤 祐輔
Yusuke Goto
1979年5月25日 東京都出身
『ミシュランガイド東京 2013』にて一つ星を獲得。以後7年連続で一つ星を獲得。
In the 2013 Michelin Guide to Tokyo, Amour was awarded 1 star. It took only half a year from the opening and from then Amour has been awarded 1 star for seven years in a row.
フランス料理の料理人である父親の影響で、幼少期より身の回りにはフランス料理の本や珍しい食材などがあり、自然とフランスという国を身近に感じて育った。そして、そんな料理人の両親と共に多種多様なレストランを巡っているうち、自らも、いつの日か人々に感動を与えることの出来る料理を創る料理人になりたいと思い始める。
高校を卒業後、辻グループ・フランス料理専門カレッジに入学。辻グループ・フランスリヨン校に進学。リヨン校卒業後、ストラスブール『オ・クロコディル』(当時3つ星)にて研鑽。帰国し、銀座『レカン』にて4年間、十時亨シェフに師事。料理人としての基礎を身につける。再度渡仏、アヴィニヨン『クリスチャン・エティエンヌ』(1つ星)、マジェスク『ルレ・ドゥ・ラ・ポスト』(2つ星)やシャリュキュトリーなどで経験を積む。

帰国後、白金台(当時)『カンテサンス』、宇都宮『オトワレストラン』でオープニングから携わり腕を振るう。
その後、西麻布『エキュレ』初代料理長に就任。
2012年、西麻布『アムール』開店時より総料理長に就任。
オープン僅か半年で『ミシュランガイド東京 2013』にて一つ星を獲得。以後5年連続で一つ星を獲得。
2016年、恵比寿にて『アムール』移転リニューアル。
2016年11月 シャンパーニュ騎士団より「シュバリエ・ドヌール」の称号を叙任。
フランス料理の技術、精神をベースに『日本人の感性、感覚を大切にし、日本人でしか表現できないフランス料理』をテーマに、独自の世界観、理論に基づき、日々研鑽する。
Yusuke's father is a French chef. That is why there were always cooking books and some rare ingredients surrounding him in his childhood. His father took him to many restaurants and gave him experience of tasting a large variety of cuisine. Through those experience, he started to think to be a chef who can make people impressed. After he graduated from a high school, he entered Tsuji group French culinary institute and moved to a same school located in Lyon, France. He devoted himself to his studies at Au Crocodile that has 3 Michelin star restaurant in Strasboug after graduating from Tsuji.

After he came back to Japan, he started to work at Ginza L'ecrin for 4 years and acquired knowledge and skills under Toru Totoki. He went to France again to brush up his skills and worked at Christian Etienne in Avignon and Relais de la Poste in Magescq. After he came back to Japan, he took part in the start up of Quintessense in Shiroganedai and Otowa restaurant in Utsunomiya. In 2009, he worked as a chef with Kei Kurusu at Ecurer in Nisiazabu. In 2012, he took office as an executive chef at Amour opened at that time in Nisiazabu. In 2013 Michelin guide Tokyo, Amour got 1 Michelin star. It took only a half year from the beginning. Since then, Amour has been keeping the star. In 2016 November, Amour moved to Ebisu. His theme is Japanese French expressing Japanese sensibility and sense based on the skill of French cuisine. He keeps pursuing his one and only world.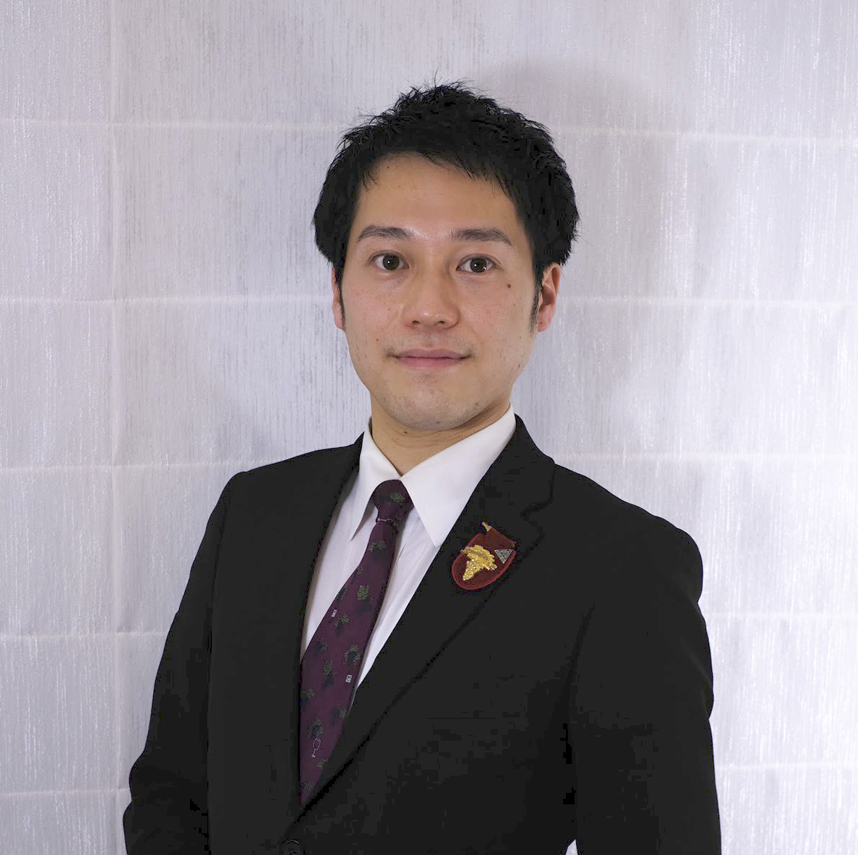 Chef Sommelier
上田 博也
Hiroya Ueda
1984年(昭和59)11月3日生まれ。新潟県柏崎市出身。
日本ソムリエ協会 認定
日本酒サービス研究会・酒匠研究連合会(SSI)認定 利酒師
Hiroya Ueda was born November 3rd ,1984. He is from Kashiwazaki-city, Niigata.
Japan Sommelier association certified sommelier
SAKE diploma
SAKE SERVICE INSTITUTE certified kikisake-shi
上京後、(株)ひらまつにてサービスに関わったのち、代官山『ラジュネス』のシェフソムリエ、シンガポールでの日本酒を主体にしたBarの立ち上げ、六本木『THE MOON』にてシェフソムリエ、レストランマネージャーを経験し、2018年9月より『アムール』シェフソムリエ、現在に至る。

フランス料理やバーでの経験を持つが日本に帰国後から、より日本の文化に特化したソムリエとして研鑽すべく日本ワイン、日本酒のみならず、日本茶など、あらゆるものに積極的に日本を取り入れた提案をし、独自の世界観を構成する。
He started working at HIRAMATSU after he moved to Tokyo. His first work as a chef sommelier was at laJEUNESSE in Daikanyama. After that, he flied to Singapore for the starting up of a bar that had a variety of SAKE.He decided to go back to Japan and work at THE MOON in Roppongi after he finished starting up the bar. His position was a chef sommelier and a manager.Since September 2018, he has started working at Amour.
His experience is not only French cuisine and alcohol drinks, but also Japanese culture.He especially specializes in Japanese wine, SAKE and Japanese tea.He creates his one and only world with his strengths.